At the Heart of the Greek Islands
on Le Lyrial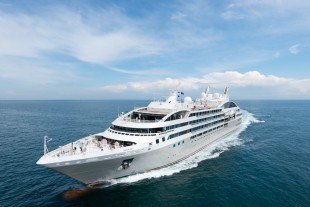 With this exceptional itinerary, PONANT invites you to enjoy a wonderful interlude discovering the cultural and natural treasures of the Cyclades and the Dodecanese. From Athens, set sail aboard Le Lyrial for an 8-day cruise to the most beautiful Greek islands of the Aegean Sea and delight not only in the rich cultural heritage but also in refreshing dips in the turquoise waters of the archipelago.
You will discover Patmos, known as the "Jerusalem of the Aegean Sea". This island, where Saint John is said to have written the Apocalypse, offers unique landscapes combining white sandy beaches and rocky coves.
After a stopover on the small island of Symi, which will not fail to dazzle you with its discreet beauty and Italian-style neoclassical houses, you will head for the Cyclades. Amorgos, or the island of the Big Blue as it is known, is a raw gem. You will admire its volcanic and mountainous landscapes that rush into the crystal clear waters that surround it.
Le Lyrial will then approach the Santorini archipelago in an incredible cruise along the foot of its caldera formed during an eruption in around 1600 BC. Sublime white villages such as Thera and Oia are built on top of the cliffs falling vertically into the sea.
You will then make a stopover on the authentic and picturesque Folégandros before reaching Delos, a minuscule island in the Cyclades archipelago. According to mythology, Apollo was born here. Like an open-air museum, Delos offers unique testimony of the civilisations that followed one another in the Aegean world.
Next comes Mykonos, its beaches and windmills, with Alefkandra, a district that is typical of the island, with houses built right on the water's edge. Le Lyrial will make a final stopover on the island of Hydra, famous for its incomparable light, before heading towards the Greek capital.
Your cruise will end in Athens, the mythical city dominated by the Acropolis and its monuments that form the most extraordinary architectural and artistic collection bequeathed by Ancient Greece to the rest of the world.

Why choose Ponant ?
A French crew, expertise, attentive service, fine dining and more. Within a fully 5 star setting, we take you to discover exceptional destinations while offering you a travel experience that is both authentic and high end.
Travelling the French way
As the only cruise company sailing under the French flag, PONANT is an exponent for the French way of life across every sea on the globe. On board, this is translated through ex
...